Compare Nissan Sentra vs Competitors

Compare Nissan Sentra vs Competitors Kendall, FL
On the market for a fuel-efficient, comfortable, and dependable car? You should consider a compact sedan. These cars have all the traits you're looking for and many feature stylish, attractive exteriors as well. The Nissan Sentra is a prime example of the best qualities of this style of vehicle, making it a top choice that stands apart from the competition. It's a good idea to compare different cars in the same category before making a choice, however, so have a look at how the Nissan Sentra compares with other similar sedans.
View Inventory
Nissan Sentra vs Toyota Corolla
One simple measurement that can inform drivers a lot about a vehicle is what the car's horsepower is. Horsepower measures an engine's ability, to put it simply, to move the car. The more powerful the engine, the easier it is for the engine to get the car up to speed. With sedans, and especially compact sedans, small differences in horsepower can have a big impact, since it takes less work to move a lighter vehicle. Considering the base models, the Nissan Sentra outstrips the Toyota Corolla in this department, with 149 horsepower coming from its 2.0L engine.
Nissan Sentra vs Honda Civic
Moderns cars are increasingly connected with our mobile devices. This makes a vehicle's connectivity and technology a key component drivers consider when choosing a vehicle. Additionally, driver assistance features like lane departure alerts, automatic collision detection and braking, and adaptive cruise control can make a big difference for a lot of drivers. In these regards, the Nissan Sentra comes out on top of the Honda Civic, with the latest in Nissan safety technology implemented throughout. Contact our sales team for more information about the Nissan Sentra's safety features.
Find Your Nissan Sentra at HGreg Nissan in Kendall, Florida
Think the Nissan Sentra is for you? At HGreg Nissan, we're your best source for the Nissan Sentra or any other new Nissan vehicle in the Kendall, Florida area. Our inventory includes all available trims for Nissan's entire lineup of vehicles, from the Nissan Sentra to the Nissan Frontier. Through our website, you can easily compare different vehicles and options, and filter results to just the cars with features you're interested in. Browse our available Nissan Sentra models today, and you can complete the entire buying process from home and have your car delivered as soon as possible.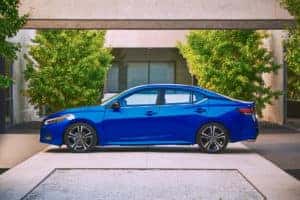 Contact Us
If you have any questions about our inventory, car buying process, or any other services we offer, don't hesitate to contact us right away. Our experienced, knowledgeable staff can answer any questions you may have, and can provide excellent insight and advice about our vehicles. You should also ask about scheduling a test drive, which is the best way to get a feel for a car you're interested in. Browse our available inventory and contact a salesperson today!